Choosing organic coffee beans is not just about helping yourself.
Organic coffee beans are grown without the use of artificial fertilizers, herbicides or pesticides.

However, only about one sixth of the 2.4 billion pounds of coffee sold each year in the United States alone are grown organically.
The rest are sprayed with a variety of chemicals, including benoyml, chlordane, cabrflurane, DDT, endulfan, paraquat,and zineb.
Coffee is the third most heavily sprayed crop in the world, after cotton and tobacco.
Should you be scared that these chemicals are present in the non-organic coffee beans you are buying?
Probably not. It seems that most, if not all of the residue of these chemicals is burned off during the roasting process.
But growers of non organic coffee beans live with these chemicals in their fields, homes and bodies...

Keep in mind that coffee is grown in developing countries, often by poor, family growers. They are not instructed or educated in the use of these dangerous chemicals. Often they don't have access to the proper protective clothing during application.

The chemicals build up in the soil, wash down into their drinking water, are breathed into the farmers' lungs, splashed onto their skin, soaked into their clothing...and are carried home with them to their homes and their children.
The choice to buy organic coffee beans is a choice not about your health, but about the health of the growers, their lands and their communities...
It doesn't cost much more to buy organic beans.
But when you make that choice, you are giving a farmer the opportunity to grow his crop without chemicals. You are giving him the chance to keep his soil, his crops, his family and his community free of these dangerous chemicals. 
More about organic and fair trade coffee... 
About the author: Nick Usborne, aka Coffee Detective, is a writer and long-time coffee enthusiast. Read more…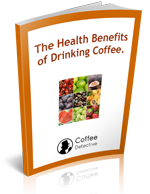 This 9-page report tells you about some of the surprising, and important health benefits of drinking coffee.
This report is yours FREE when you sign up for the Coffee Detective Newsletter
"The Health Benefits of
Drinking Coffee"
Sign up below and we'll provide a link where you can download your report immediately.
---