Our review of the OXO BREW Conical Burr Coffee Grinder with Integrated Scale.
Many thanks to the folks at Oxo Coffee for sending us this coffee grinder to review.
As is our habit before writing any coffee gear review, we used the grinder for a few days before we felt ready to record this review.
The unique feature of this coffee grinder is that it has a built-in scale.

We've used several coffee grinders over the years, all of them burr grinders.
They all give you a way to adjust the coarseness of the grind. This means you can grind to a very fine level for making espresso, or to a much coarser level for brewing with a French press, and everything in between.
Most grinders will also offer some kind of automatic timing option, so you can – through a process of trial and error – figure out how long the grinder should run to deliver the exact amount of ground coffee you need for your brewer.
This OXO BREW grinder removes the guesswork completely.
Because, unlike any other grinder we've used, it includes an integrated scale.
You can grind your coffee by the ounce, cup or manually.

As the coffee is ground and falls into the bottom container, you get a running total of the weight of coffee ground.
So… if you have an 8-cup drip brewer, at 5 oz per cup, you'll be using 40 oz of water and 64 grams of ground coffee. 
With this grinder you simply start grinding by pressing the grind button and then keep an eye on the display that shows you the weight of the coffee. 
Once it hits 64 grams, just lift your finger and you're done.
If you prefer, you can change the setting so that it shows in cups instead of grams. In this case, you'd keep the button depressed until the display shows 8 cups.
And finally, there's a manual mode. This means, as an example, you can fill the portafilter for your espresso machine by eye… grinding until the portafilter is full.
Another very cool feature for a burr coffee grinder...

Even once you've calculated everything to the last ounce of water and gram of coffee… you may find the final brew a little too weak or strong for your liking.
In this case, next time you grind your coffee, use the Strength Adjuster. Move it to the right for a stronger brew, or to the left for a lighter brew.
The grinder will then either grind a little more coffee or a little less.
This is a really helpful feature, because even when your water volume is the same, you'll sometimes want to tweak the amount of ground coffee you use, depending on the origin or roast of the coffee you're using.
Final thoughts…

We like this grinder a lot. So far it's the only one we've tried that has its own scale. And that's a really helpful feature.
If you want one for yourself and can't find it locally, you can get the OXO BREW Conical Burr Coffee Grinder with Integrated Scale at Amazon.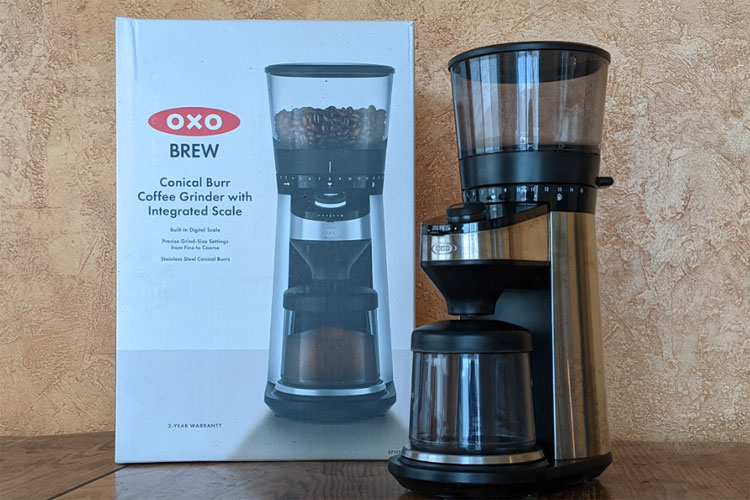 Before you go, sign up to receive the Coffee Detective Newsletter...
Sign up for occasional newsletters about the best coffees and brewing equipment. Plus special updates from the Coffee Detective Coffee Store…