How to make coffee with the Toddy Cold Brew system.
Most of us assume that to make a decent cup of gourmet coffee, you need to use hot water.

Not so. For a very long time there has been a tradition of making excellent coffee with a variety of different cold-brew coffee-making systems or processes.
The Toddy Cold Brew system is perhaps the best known, and is used by Seattle's Best and many other coffee shop chains for making their iced coffee drinks.
One immediate upside to the cold brewing method is low acidity. In fact, Toddy claims to reduce the usual acidity of hot-brewed coffee by as much as 67%. That's good news for coffee lovers with delicate stomachs.
One the thing about cold coffee brewing – it takes longer.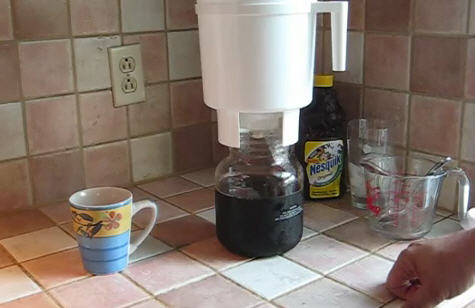 The coffee that drips down after 12 hours is a coffee concentrate and can be used for making a variety of cold coffee drinks.
Here's how the process works with the Toddy...
Basically, you add water and ground coffee to a tub with a filter and a hole in the bottom. For brewing, you plug the hole first. Once you have added the water and the coffee grinds, you leave them alone for 12 hours.

Once the water and coffee grinds have sat for 12 hours, you take out the plug and let the coffee decant into a glass pitcher.
This is a coffee concentrate and can be stored in the fridge for up to two weeks.
When you use the concentrate, you simply take your coffee mug, and mix one part coffee concentrate with three parts hot water or steamed milk.
That's right. You can cold-brew a whole week's worth of coffee in advance, and make your morning brew each morning simply by adding hot water or milk.
If you are not in the mood for hot coffee, fill a tall glass with ice cubes, then pour over a little coffee concentrate, with milk, sugar or chocolate syrup to taste.
You can buy the Toddy Cold Brew System at Amazon.com.
More on cold coffee and iced coffee...

Our demo of the Hario Mizudashi Cold Brew Coffee Pot

Making iced coffee drinks at home
Using frozen coffee cubes for your iced coffee
Cold-brew coffee with chicory and anise.
About the author: Nick Usborne, aka Coffee Detective, is a writer and long-time coffee enthusiast. Read more…
Before you go, sign up to receive the Coffee Detective Newsletter...
Sign up for occasional newsletters about the best coffees and brewing equipment. Plus special updates from the Coffee Detective Coffee Store…