Our latest tasting of Jamaica Blue Mountain Coffee from Ridgelyne.
Once again, a big thank you to David O'Connor for sending us some Ridgelyne 100% Blue Mountain Coffee.
David imports this coffee direct from the roaster in Kingston, Jamaica.
This is the third time we have reviewed this coffee over the last few years. Which begs the question – why keep tasting and reviewing the same coffee over and over again?
The answer is simple. Each year's harvest is different.
If that sounds odd, consider the wine you drink.
To someone who knows their wines, no two years are the same. A 2006 may be fantastic. A 2007, not so much.
It's the same with coffee. Each year brings different weather. And the beans used may come from different farms with slightly different soil and growing conditions.
In other words, if you really know what you're tasting, and the coffee is really good, then you will notice subtle differences between years. 
And yes, genuine Jamaica Blue Mountain coffee is high-quality coffee. I have been there on the ground, and have seen how hard they work to create a premium coffee.
Which reminds me...be careful when you buy this coffee. There are plenty of counterfeits out there.
During my visit to Jamaica earlier this year I took the photo you see below. The group of coffees on the left are all counterfeit coffees, identified by the Jamaica Coffee Industry Board. The packaging claims that the coffee inside is Jamaica Blue Mountain coffee, but it isn't.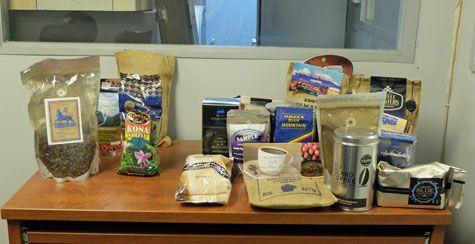 OK, now let's look at this latest offering from Ridgelyne.
I wish I had some of last year's coffee to compare with, side by side. But I don't. But I would hazard a guess that this latest batch is a little darker roasted than before.
As always when tasting, we try to swirl the coffee throughout our mouths, to feel the full range of flavors all at once.
We were expecting a great coffee, and weren't disappointed. Even the aroma has a delicious hint of fruit and berry.
As for the taste, it is rich, full and multi-layered.
There is very little bitterness. But you do feel that deep, fruity flavor right away. On top of that is a dark sweetness, like a dark chocolate. And just a touch of citrus, to give it an edge.
Compared with previous years, I think there is more berry in this coffee. Not overly sweet. More like a dark, black cherry sweetness.
And that black cherry and dark chocolate sweetness lingers in the mouth for a long time. 
Plus there's a hint of dark-roasted nuttiness in there somewhere.
We liked it a lot. It is perhaps slightly less layered and subtle than the medium-roasted versions of this coffee we have tried in the past.
But as fans pf dark-roasted beans, we appreciated how this coffee manages to deliver the strength and full body of a dark roast, without being too harsh of bitter, or losing the fruit notes.
Definitely worth trying!
You can buy some of these Ridgelyne beans for yourself through David's website here.
About the author: Nick Usborne, aka Coffee Detective, is a writer and long-time coffee enthusiast. Read more…
Before you go, sign up to receive the Coffee Detective Newsletter...
Sign up for occasional newsletters about the best coffees and brewing equipment. Plus special updates from the Coffee Detective Coffee Store…