Rosso Caffe capsules are about more than just price. They're also about origins and taste.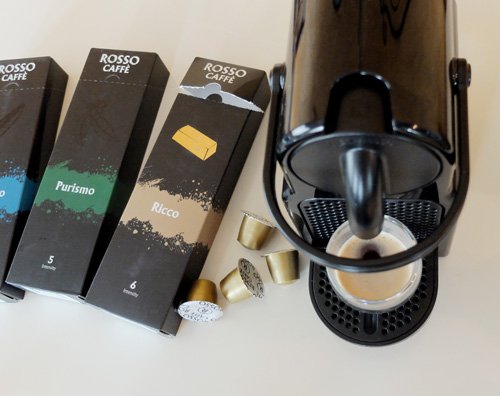 When you think about third-party providers of Nespresso-compatible capsules, it's natural to think it's all about the price.
And it's true that Rosso Caffe capsules cost about 30% less than those you get direct from Nespresso.
But Rosso Caffe are trying to do something else too. They're trying to get us to taste espresso in the same way we taste coffees.
Let me explain what I mean by that.
If you are into gourmet coffee at all, you soon figure out that coffees from Central America taste differed from those from East Africa or Indonesia. Over time our palate becomes a little more discerning, and we find we can tell the difference between a coffee from Colombia and another from Guatemala.
But what about espresso? Do you look at espresso in the same way? Or do you pretty much lump all espressos together, with maybe a nod to some being bolder or more intense than others?
Or maybe all the subtleties of the espresso you drink are lost when you use them as a base for a latte or cappuccino. The espresso simply provides the coffee flavor to the drink.
It seems that Rosso Caffe is trying to show us that not all espressos are the same. The company's founder, Michael Shelly, started by working with coffee growers in Costa Rica to create his first high-end espresso blend. Since then his company has been trying beans from all over the world to create a whole range of different blends with different characteristics. 
So when Rosso Caffe sent me some capsules to try, I was curious to find out whether I could taste much of a difference between their various espresso blends, based on their origins.
The packaging tells you about the intensity of the espresso, along with notes on its origins and taste.
I was curious because, like many other coffee drinkers, I have tended to view espresso as just, well, espresso. I hadn't given much thought to whether I might prefer an espresso blended with beans from Kenya or from El Salvador. Or vice versa. 

For my taste test I tried their original Costa Rican blend, Ricco, with their Intelligente espresso, which is made with a blend of Sidamo beans from Ethiopia.
I made both shots in my Nespresso Inissia and tasted them side by side. And yes, I could certainly tell the difference.
The Ricco was a little fuller, more rounded and chocolaty.
The Intelligente had a lighter mouth feel, with some fruity and floral notes.
Out of the two, my favorite was the Ricco.
Well, that was an interesting experience. I hadn't expected to be introduced to the finer point of espresso tasting by a "discount" distributer of Nespresso-compatible capsules.
Kudos to Rosso Caffe, and many thanks for the box of samples.
You can learn more about Rosso Caffe through their website.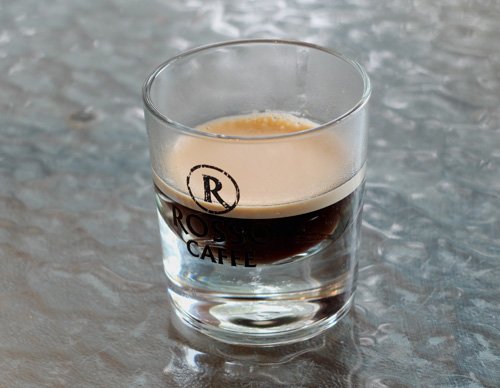 Even the Rosso Caffe espresso shot glass is a little different, with a heavy base and a classy feel.
About the author: Nick Usborne, aka Coffee Detective, is a writer and long-time coffee enthusiast. Read more…
Before you go, sign up to receive the Coffee Detective Newsletter...
Sign up for occasional newsletters about the best coffees and brewing equipment. Plus special updates from the Coffee Detective Coffee Store…