Our review of Shearwater Colombia Quinchia organic coffee.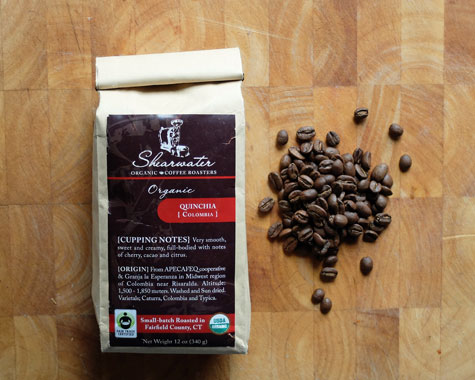 Thank you again to Ed Freedman, the owner and head roaster at Shearwater Organic Coffee Roasters in Trumbull, Connecticut. 
This is our review of the second of the coffees he sent us. The first was a wonderful Ethiopia Sidama Homacho Waeno coffee.
This Quinicha coffee from Colombia comes from half a world away, and has a very different taste profile.
As with all coffees from Shearwater, this is organic and Fair Trade certified. It comes from a cooperative in the Midwestern region of Colombia, near Risaralda, and is grown at an altitude of between 1,500 and 1,850 meters.
This information on the origin of the coffee, and the altitude at which it is grown, is included on the label. That kind of information is great to have, and lacking from most coffee packaging.
How come other companies don't include this kind of detail on their packaging? Probably because the best they could offer would go something like this: "This coffee comes from somewhere in Colombia, we think."
Anyway, back to the Quinicha coffee.
As always, we brewed it immediately after grinding, and then let it sit for a few minutes to cool down a little.
This is a medium-roast coffee and, as we expected, was smooth without any harsh edges or biting bitterness. A nice, full, mellow brew.
But it is more than just a pleasant coffee. It has some very nice taste notes.
It combines a natural sweetness with a touch of cocoa. Or, to put it another way, you get a hint of dark chocolate.
This is balanced with a little citrus and another flavor we took a while to identify. The closest I can come is that there is a just a hint of dark, sour cherry. Not much, just a hint. But it nicely complements the chocolately sweetness.
All of these notes are subtle, but add up to a brew that is soft, delicate and very interesting.
Altogether a very nice coffee.
Find out more at the Shearwater website…
As with all Shearwater coffees, this Quinicha coffee is roasted in small batches.
Here's a photo of Ed Freedman with the roaster he uses.
About the author: Nick Usborne, aka Coffee Detective, is a writer and long-time coffee enthusiast. Read more…
Before you go, sign up to receive the Coffee Detective Newsletter...
Sign up for occasional newsletters about the best coffees and brewing equipment. Plus special updates from the Coffee Detective Coffee Store…