Son poured milk in Keurig to make hot cocoa.
by Robin
(SC)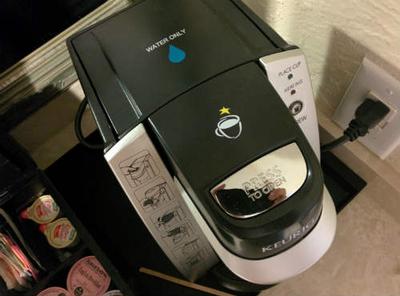 Water only in your Keurig brewer!

QUESTION:


I am sorry if this is put in the wrong spot but was wondering if there was a magic fix for milk in Keurig machine.
My 9 yr old wanted to make hot cocoa and poured milk straight into the machine. After 2 dozen rinses with water/vinegar the water is now running clear but it smells so bad. My machine is now sitting next to the garbage can waiting to get tossed out in tomorrow's trash.
Has anyone encountered this tragedy (hahaha) and fixed it so the water doesn't smell like burnt milk?
ANSWER:
Robin, hi
I'm sorry, but I can't stop laughing at your misfortune. : ) I just have this picture in my mind of a 9-year old boy earnestly pouring milk into a Keurig brewer! In a way, it makes excellent sense. Put water in for coffee, and milk in for hot chocolate. Why not?
It also reminds me of when one of my own sons squeezed two slices of bread and a slice of cheese in our toaster to make a toasted cheese sandwich!
As for your problem, you could try one of the products recommended for cleaning the milk lines in espresso machines, like
Urnex Rinza Alkaline Formula Milk Frother Cleaner
.
These products are designed to dissolve residues in the milk frothing part of the machine, so it might work for your Keurig. Worth a try anyway!
Best wishes,
Nick