Our Review of The Staresso Mirage Portable Espresso Maker.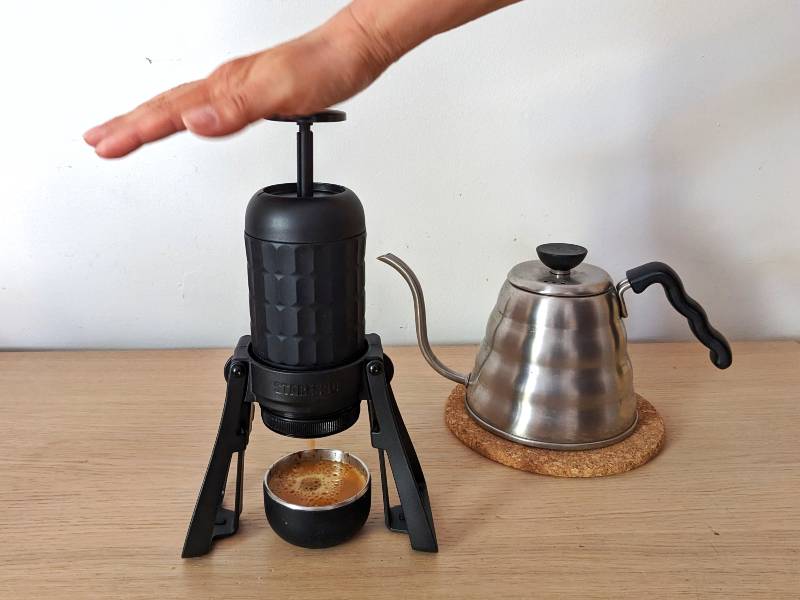 First, many thanks to Rick and his team for sending us the Staresso Mirage Portable Espresso Maker to review.
When we unpacked it, it was love at first touch. It's light enough to put in your backback or carry-on luggage. And hefty enough to let you know the build is solid.
Made from BPA-free plastics and steel, everything about the build of this device tells you it's going to last. Unlike some coffee makers I have taken on trips, I know I'll never have to worry about damaging the Staresso if I drop it or handle it roughly.
It looks good too!
Getting started with the Staresso.
All you need is some ground coffee and hot water. Bring the coffee ready-ground, or use whole beans with a manual grinder. Up to you.
Interestingly, the instructions suggest a medium grind rather than the very fine grind you might use with your home espresso machine.
After cleaning and ready for use...
Other than that, you just need a source of near-boiling water, like a kettle or a pan. Whether you're camping or in a hotel, that shouldn't be a problem.
Before your first brew, you need to dismantle the machine and give all the pieces a good wash before you use it to make espresso. This gives you a good opportunity to get familiar with all the different elements and how to go back together.
At first I felt a little intimidated by all the parts, but it turns out the whole system is pretty intuitive, and I had no trouble putting it back together for the first time.

Making our first shot of espresso.
Practice done, I added ground coffee to the filter basket and hot water to the top chamber. Then I added the device to its stand, which makes the whole thing look like a slightly cute and stubby rocket ship… waiting for lift off!
After unscrewing and placing the included cup under the "rocket engine", I released the plunger at the top with a simple twist and started plunging.
It takes a few pushes before you begin to feel any real resistance, and then you see the espresso begin to flow into the cup.
It's not a light and easy push either. You have to put a little effort into it. Not surprising when you consider this small device delivers between 10 and 20 bars of pressure.
The good news is that your hard work will be rewarded with an excellent shot of espresso that has a rich and creamy crema.
Nice!
Once you're done… enjoy your espresso straight, or use it as the base for an Americano, cappuccino, or the espresso-based beverage of your choice.
And then… well, the least fun part… cleaning everything.
Because there are several parts to this device, it does make cleaning everything a bit of a chore. Unscrew and dismantle all the pieces, clean thoroughly, and then leave them out to dry.
Conclusions...
For us this is a keeper. We do travel quite a bit, and the portable espresso makers we have tried in the past have all felt like a bit of a compromise.
With the Starpresso we now have an espresso maker that is easy to take with us, anywhere, and delivers a quality of espresso that doesn't feel like a compromise in any way.
And personally, I really like the design, the quality of the build, and the heft of the thing. Like I said, I have zero worries that this won't be up to the rough and tumble of following us on our travels.
If you're interested in learning more and maybe getting one for yourself, you can find the Staresso Mirage here.

Further reading:

Espresso based coffee drinks

How to make cappuccino, latte, caffe mocha and other espresso-based coffee drinks. Full instructions here...

Before you go, sign up to receive the Coffee Detective Newsletter...
Sign up for occasional newsletters about the best coffees and brewing equipment. Plus special updates from the Coffee Detective Coffee Store…