A video review of the Bosch Tassimo T20 Hot Beverage System.
The Tassimo T20 Hot beverage System makes single servings of coffee, cappuccino, tea, hot chocolate and more. Using sealed discs, each beverage is made with no mess, fuss or cleanup.
If you just drink a lot of coffee in your home, making it with the Tassimo is quite an expensive option, even although it's super convenient.
This machine really shines when you use it to make coffee, cappuccino, hot chocolate and tea. It really is a hot beverage system – one machine that does everything for you.
What appeals most to us is the quality of the cappuccino. It's really good. And making it with the Tassimo is a lot cheaper than buying it at a coffee shop.
You can buy the Tassimo T20 online at Amazon.com.
More videos about coffee and coffee makers...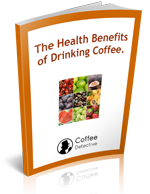 This 9-page report tells you about some of the surprising, and important health benefits of drinking coffee.
This report is yours FREE when you sign up for the Coffee Detective Newsletter
"The Health Benefits of
Drinking Coffee"
Sign up below and we'll provide a link where you can download your report immediately.
---