Vintage hoover 8800 percolator
by Kea
(High Desert Ca)
HEAVEN!!! Don't even bother with the modern percolators, buy a vintage one. The quality of the machine and the taste of the coffee is beyond compare. I have a Keurig, French press, Chemex, and 3 diferent sized Italian Moka Pots. NONE MAKE COFFEE AS GOOD AS MY HOOVER PERK! Everyone who visits my home and gets to experience it remarks about how wonderful the coffee tastes and inquire about how to get a vintage percolator. Of course, I also use quality fresh roasted beans from Peets that I order every two weeks from them directly so that makes a difference as well, but there is something about percolator coffee brewed properly that just beats them all in my opinion!


Editor's Note: Please send us a photo! Email it to me at nick@coffeedetective.com and I'll add the picture to this page!
Join in and write your own page! It's easy to do. How? Simply click here to return to Best Coffee Maker.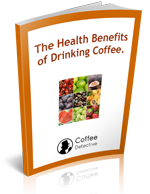 This 9-page report tells you about some of the surprising, and important health benefits of drinking coffee.
This report is yours FREE when you sign up for the Coffee Detective Newsletter
"The Health Benefits of
Drinking Coffee"
Sign up below and we'll provide a link where you can download your report immediately.
---