The Ripplecove Blend from Virgin Hill Coffee. A mild, aromatic blend with a unique character.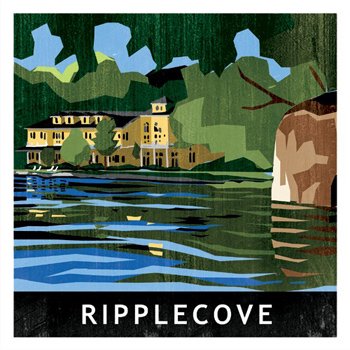 First, a big thank you to the folks at Virgin Hill Coffee Roasters. We knew you were sending us some samples – but were surprised to find a box with no fewer than 6 12oz bags on our doorstep!
The first coffee we decided to try was the Ripplecove blend.
But before we get to that, a few words about Virgin Hill Coffee Roasters.
Virgin Hill Coffee Roasters is a family-owned business based in the Town of Brome Lake, in the Eastern Townships of Quebec. It is a true family business, with some of the family out on the road spreading the word, while others are involved in the roasting process.
In fact, they are located pretty close to our own office, so we plan to go visit and take plenty of photos some time soon.
Back to the Ripplecove blend. This blend was originally created for the Ripplecove Inn in the eastern townships of Quebec. Mrs. Stafford, who owns the Inn with her husband, wanted a blend that nobody else had.
On the coffee bag itself, this coffee is described as "Sharp and aromatic, with a lingering flavor".
We can agree with that, more or less. (Not so sure about the "sharp" reference.)
Here is our own take, after grinding some beans, making the brew, and tasting it black.
Certainly, it has the characteristics of a medium roast. It has a light aroma and a mild taste, with only the slightest hint of bitterness.
It is at this point, with many mild roasts, that we prepare ourselves to be a little disappointed. If the choice of beans isn't quite right, or the roasting process itself isn't done well, you can end up with a coffee that is not only mild, but also bland.
This isn't the case with the Ripplecove blend.
Yes, it is mild, but as the coffee sits in your mouth, you feel a wonderful range of tastes and flavors. A little bit of sweetness. A slight earthiness or nuttiness. A hint of bitterness, to give it that edge.
Best of all, the flavours linger and play on your tongue for quite a while.
We like this coffee, and give two thumbs up to the roasters. It isn't easy to create a mild blend that offers a unique taste and some real character. But the roasters at Ripplecove have done just that.
You can learn more about the Ripplecove Blend at Virgin Hill Coffee Roasters.

Read our no-nonsense coffee reviews...

All our coffee reviews are written in plain English, and are not paid for. We just call it as we taste it. See all our coffee reviews here...

About the author: Nick Usborne, aka Coffee Detective, is a writer and long-time coffee enthusiast. Read more…
Before you go, sign up to receive the Coffee Detective Newsletter...
Sign up for occasional newsletters about the best coffees and brewing equipment. Plus special updates from the Coffee Detective Coffee Store…