My visit to Jamaica's Blue Mountain Coffee region.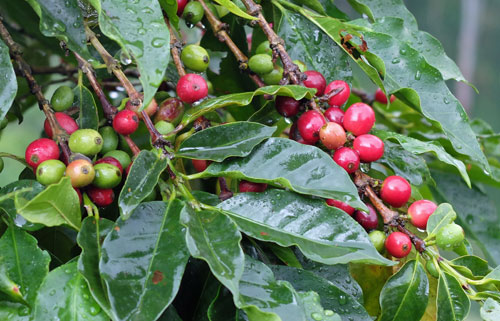 I'm just back from spending five days in Jamaica, three of which were spent in the Blue Mountains north of Kingston.
This is where the fabled Jamaica Blue Mountain Coffee comes from.
I went there to find out more about where and how the coffee is grown, how it is processed and, perhaps above all else, why it is so good and yes, expensive.
During my visit I took dozens of pages of notes and over 250 photographs, covering every aspect of the coffee's cultivation and processing. 
It's going to take me a while to categorize all the information I collected. When I have, I'll be writing a series of articles about Blue Mountain Coffee – from the seedling to the cup.
But in the meantime, I want to share a few of my experiences in Jamaica, before any of the memories fade.
Here goes…
I was met at Kingston Airport by David O'Conner and Marlene Grant. They live outside Ottawa for most of the year, are the owners of SimpleIndustries.ca and have a license to import Blue Mountain Coffee into Canada.
Marlene has a family home in Jamaica and that's where we headed.
No hotel for me. And none of that north-coast-tourist-approximation-of-Jamaica stuff either. I was staying in a typical Jamaican home, filled with aunties, brothers and sisters and cousins.
And food. Lots of wonderful Jamaican food, cooked by Auntie Faye.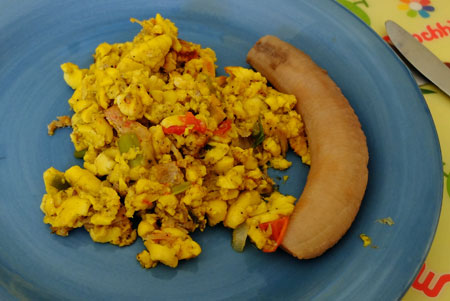 Ackee with saltfish and boiled banana. A great breakfast!
I ate numerous fruits that I had never even heard of before. I had Ackee with saltfish for breakfast. A soup made with turtle, octopus and cow skin for dinner. A bowl of chick feet soup. And countless other traditional meals.
And I loved every bite of it.
After a couple of days taking it easy, we embarked on three days of exploration in the Blue Mountains.
But first we met up with Basil Jones, who generously gave his time to show me around. Basil is one of the world's foremost experts on Jamaica Blue Mountain Coffee and the owner of Coffee Solutions Ltd. He worked for 18 years with the Jamaican Coffee Industry Board and is now perhaps the finest roaster of Blue Mountain Coffee in the world. In addition to roasting, he also consults with some of the largest players in the market, and has trained many of the island's current crop of coffee experts.
Day One: We visited a coffee farm that, in addition to growing and processing its own coffee, also grows coffee trees from seed and provides young trees to many of the island's farmers.
Day Two: We visited the Coffee Industry Board and I was given an introduction to their work, their quality control processes, and even got to sit in on one of their coffee cupping sessions. In the afternoon we got to visit a small coffee farm in Newcastle, high above Kingston in the mountains.
Day Three: We first visited one of the island's newest and largest coffee processing plants. Next we visited a coffee farm at Sir John's Peak, one of the highest mountains on the island. I'll probably write a whole article about the Sir John's Peak farm.
Think about impossibly narrow mountain roads, with our four-wheel drive vehicle getting stuck during a downpour. Think about coffee pickers working on 70 degree mountain slopes. Think about coffee trees in the cloud and mist, heavy with coffee cherries waiting to be picked.
Crazy narrow roads on the way to the Sir John's Peak coffee farm in Jamaica...shared with 2-ton trucks!
After three days we were all pretty much exhausted. For myself, I felt I had a mild concussion from the vehicle bouncing from one deep pothole to another as we drove those mountain roads!
Like I said, I collected enough material to write numerous articles on Blue Mountain Coffee. So stay tuned, although it may be a week or two before I get everything organized and the first article written.
And yes, I now know why this coffee is so good, and why it costs more than most other coffees. Believe me…there are good reasons!
NOTE: Just to be clear, neither this article nor those that will follow are "advertorials". I wasn't paid to make this trip, and I purchased my own flights there and back. That said, I would be remiss not to recognize the amazing hospitality and generosity of David, Marlene and her family, and Basil Jones. They invested a great deal of time and effort into making my trip both useful and enjoyable…and I thank them all for their kindness and their time.
All photos and text © copyright Nick Usborne.
Further reading on Jamaican Blue Mountain coffee:
Why Jamaica's Blue Mountain Coffee is so good, and why it costs more.
Jamaica Blue Mountain Coffee – from seed to harvest.
Processing coffee in Jamaica's Blue Mountains.
How low-tech and high-touch makes Jamaica Blue Mountain Coffee so good.

About the author: Nick Usborne, aka Coffee Detective, is a writer and long-time coffee enthusiast. Read more…
Before you go, sign up to receive the Coffee Detective Newsletter...
Sign up for occasional newsletters about the best coffees and brewing equipment. Plus special updates from the Coffee Detective Coffee Store…