Volcano Roast, from Maui Mountain Home Grown - a rich, chocolaty delight.
First, thank you to Bobbie for sending us this coffee all the way from the Hawaiian island of Maui!

Before getting to the review itself, let me say a little about the coffee and where it comes from.
This isn't some mass-produced coffee. It is grown on a small family coffee farm in Maui. The cherries are hand-picked, and only when they are ready.
That's worth thinking about. When you get the bag of beans, you can open it up, look inside, and think of all the work that went into getting those roasted beans into your home. Two coffee beans per cherry, and each cherry hand-picked.
OK, now for the review of the Volcano Roast. As you might guess from the name, this is a dark roast. But not overly dark.
As always, we ground the beans just before brewing, made a small cup of black coffee and then waited for two or three minutes to let it cool before tasting.
This is a rich coffee, but without being harsh. And it has a bitterness, without too much bite. The natural mellow tones of a Maui coffee, combined with the dark roast, give this coffee a unique, rich flavor.
If we had to sum it up in two words, those words would be - dark chocolate. You get the sweetness, and the bitterness, both blending in your mouth at the same time.
Very nice. And very different from other coffees you may have tasted.
It's not inexpensive, but if you want to treat yourself, or simply expand the range of coffees you have tried, this Volcano Roast is a rare find, and worth every penny.
You can learn more about the Volcano Roast at Maui Mountain Home Grown.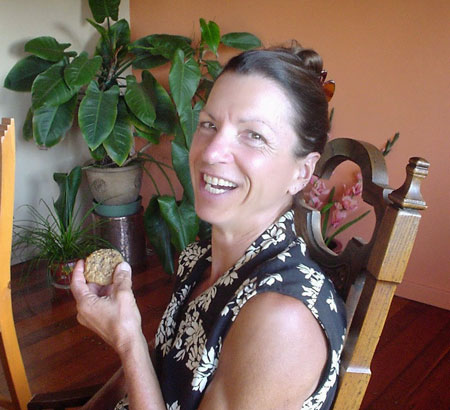 Bobbie Becker of the Maui Mountain Home Grown farm.
About the author: Nick Usborne, aka Coffee Detective, is a writer and long-time coffee enthusiast. Read more…
Before you go, sign up to receive the Coffee Detective Newsletter...
Sign up for occasional newsletters about the best coffees and brewing equipment. Plus special updates from the Coffee Detective Coffee Store…