Hot coffee drinks recipes for winter – to keep you warm and bring you cheer.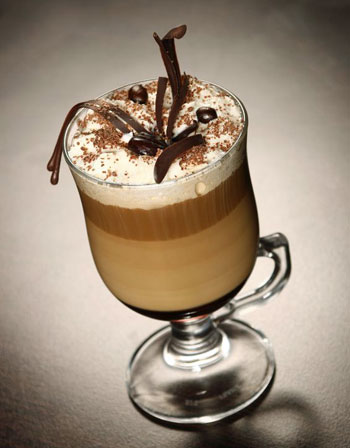 Hot coffee drinks offer a great way warm up on cold Fall or Winter days. You can make yourself a single hot coffee beverage, or make a pot to share with family and friends.
We'll be adding more coffee drink recipes to this page as we find them, so be sure to come back again soon.
Tennessee Mud

1/2 oz Jack Daniels

1/2 oz Amaretto
5 oz brewed coffee
Top with whipped cream
Serves 1
Irish Coffee (No alcohol)

1 cup hot coffee

1 Tablespoon Irish Cream coffee flavor syrup

Whipped cream

Prepare coffee as you like it and add 1 Tablespoon of Irish Cream coffee flavoring. Serve with whipped cream. Drink coffee through whipped cream.
Serves 1
Coffee Grog

3 cups coffee

1/2 cup heavy cream 

1 cup brown sugar 

2 tbs butter, softened 

1/4 tsp cloves, ground 

1/4 tsp nutmeg, ground 

1/4 tsp cinnamon, ground 


Blend butter, sugar, cloves, nutmeg and cinnamon in a small bowl. Mix coffee and cream together with the spice mixture.
Serves 6
White Chocolate coffee

3 oz white chocolate, chopped 


2 cups half n half 

2 cups hot coffee

Whipped cream 


Heat the milk and chocolate together in a saucepan until melted and smooth. Stir in coffee and serve with whipped cream on top.
Serves 6
Maple coffee

1 cup hot coffee 


1/4 cup maple syrup

1 cup half & half 

Whipped cream 


Heat the milk and syrup together in a saucepan, but do not let it boil. Stir in the coffee. Serve topped with whipped cream.
Serves 2
Black Forest Coffee

4 cups hot brewed coffee


1/2 cup chocolate syrup

1/4 cup maraschino cherry juice

Whipped cream

Chocolate syrup

Maraschino cherries


Combine hot coffee, chocolate syrup, and maraschino cherry juice; mix well. Pour into mugs. Top with whipped cream and a cherry, and drizzle with chocolate syrup.
Serves 6
Eggnog Coffee Punch

1 1/2 cups coffee ice cream


1 1/2 cups eggnog

1 cup hot, strong coffee

4 tablespoons frozen whipped topping, thawed

4 pinches ground nutmeg


Scoop the ice cream into a pan over low heat. Stir in the eggnog and coffee. Heat for a few minutes until warm. Pour into four mugs. Top each with 1 tablespoon whipped topping and sprinkle with nutmeg. Serve immediately.
Serves 4

9 Amazing alcoholic coffee drinks.

Alcoholic coffee drinks recipes for after-dinner treats. If you have the liqueurs and the coffee, we have the recipes.

Espresso based coffee drinks

How to make cappuccino, latte, caffe mocha and other espresso-based coffee drinks. Full instructions here...
Before you go, sign up to receive the Coffee Detective Newsletter...
Sign up for occasional newsletters about the best coffees and brewing equipment. Plus special updates from the Coffee Detective Coffee Store…