Everything you need to know about making gourmet coffee at home.


At Coffee Detective we take a common sense approach to helping you make the best gourmet coffee.
We give you the straight facts...so you can explore, taste and enjoy some wonderful coffees...and brew them at home to get the best from their unique flavors.
Browse through these pages for help in choosing some wonderful gourmet specialty coffee beans, plus advice on buying the best coffee makers, single serve brewers and coffee grinders.

Which coffee maker is best for you and your home?
Drip brewers, single serve brewers, pour-over brewers, the French press. So many choices! Find out which is best for you...

The brewers that coffee professionals use at home.
You'll be surprised by how "ordinary" these brewers are, and why the pros like them so much. Check out the pros' top choices...

A single-serve brewer? If so, which one?
There are several different brands of single-serve brewer, each with their own advantages and disadvantages. Find the right one...
Coffee photo of the week...
How-to tips for making great coffee.

 
How to measure coffee to make the perfect brew.

What is the correct water temperature for brewing coffee?
Choosing between dark and medium roast coffees.
How to make coffee without a coffee maker.
Reviews of some top home coffee makers,


espresso machines and coffee grinders.



The Chemex Pour Over Brewer.
The Chemex is a manual, pour-over brewer that makes better coffee than most fancy brewers. Watch our video demo...

Breville Duo-Temp Pro espresso machine.
This is a semi-automatic, mid-priced home espresso machine. It's the one we use. Watch our video demo...

The iCoffee Opus single serve K-Cup brewer.
This is our preferred K-Cup brewer. In our experience it brews better coffee than the Keurig machines. Watch our video demo...

The Breville Dose Control Pro.
This is the conical burr grinder we use every day, for our drip coffee and espresso. Watch our video review...
Advertisement:
A few coffee topics our readers are asking about.
How can I descale my Keurig Brewer?

Is the plastic in K-Cups safe?
Drip or percolated coffee - Which is best?
How many times can I use the same K-Cup?
Can I still get one of the original Keurig brewers, like the B40 Elite?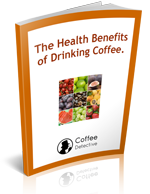 This 9-page report tells you about some of the surprising, and important health benefits of drinking coffee.
This report is yours FREE when you sign up for the Coffee Detective Newsletter
"The Health Benefits of
Drinking Coffee"
Sign up below and we'll provide a link where you can download your report immediately.
---