Our review of the VSSL JAVA – a beautifully engineered hand coffee grinder.
I own a few different hand coffee grinders, including the Hario grinder featured in the video.
They are all designed to do the same thing. 
All the hand grinders I have are adjustable conical burr grinders. Some are designed to rest on a hard surface while you turn the crank. Others are designed to be held in one hand while you turn the crank with the other hand.
When it comes to what it does – and how it does it - the VSSL JAVA isn't that much different. It's a grinder for use in both hands. Hold it in one and turn the crank with the other.
Same old same old.
And yet...

The VSSL JAVA is utterly different.
For a couple of reasons.
Reason #1: The VSSL JAVA is beautifully engineered and built.

Hold it in your hand and feel its weight… close to one pound.
It's made from aircraft-grade aluminum for its body and stainless steel for the burrs.
It's a solid object.
Now play around with it. Open the top so you can see where you add whole coffee beans. Unscrew the base where the ground coffee collects. Extend the arm and feel how there is no give or looseness… just a clean, solid slide of one part against another.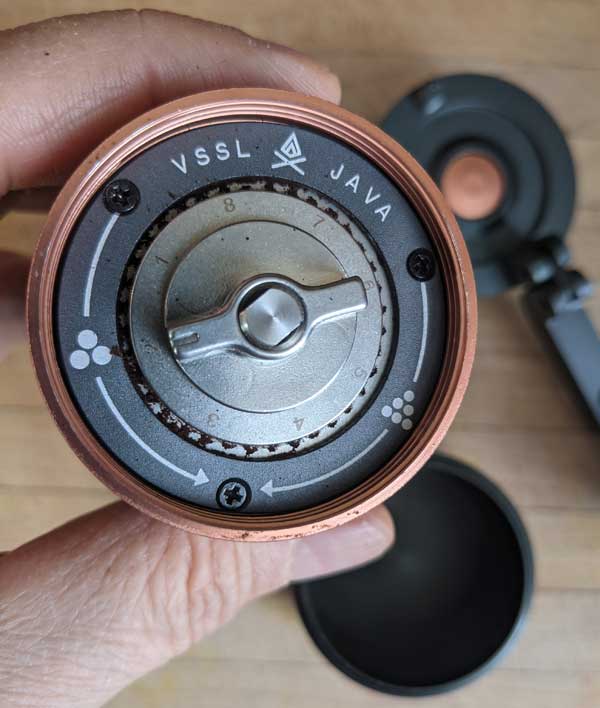 Adjust the grind size according to your brewing method and preferences.
Everything is precisely engineered. Every part fits perfectly.

This is a beautiful object. It's a pleasure to hold in your hand. It's a pleasure to use.
OK… so I'm a bit of an engineering snob. I hate cheap construction. I hate a sloppy build.
But this… this is one of those rare objects that feels beautiful in your hands.
And yes, that matters. Because its purpose is to give you a hands-on experience whole grinding fine coffee.
And that experience will give you no pleasure if you can't feel the grind through the palm of you hand.
Reason #2: The geometry of the moving parts is perfect.

Every other hand grinder I have used feels awkward in your hands as soon as you start grinding.
The balance just isn't there.
As a result, grinding coffee by hand becomes a chore. It's no longer enjoyable.
That's what I really appreciate about the VSSL JAVA… it makes grinding coffee by hand a real pleasure.
Finally, ask yourself… WHY do you want to use a hand grinder in the first place?

It's because you care about the quality of your coffee. And it's because you want to enjoy the hands-on experience of brewing that coffee, from grinding the beans to pouring the brew.
This means you want to use the right tools… tools that will help you enjoy that experience. 
No apologies. I'm a coffee nerd… and an engineering nerd… and a "beautiful object" nerd.
And the VSSL JAVA ticks all those boxes for me.
You can get your own VSSL JAVA here.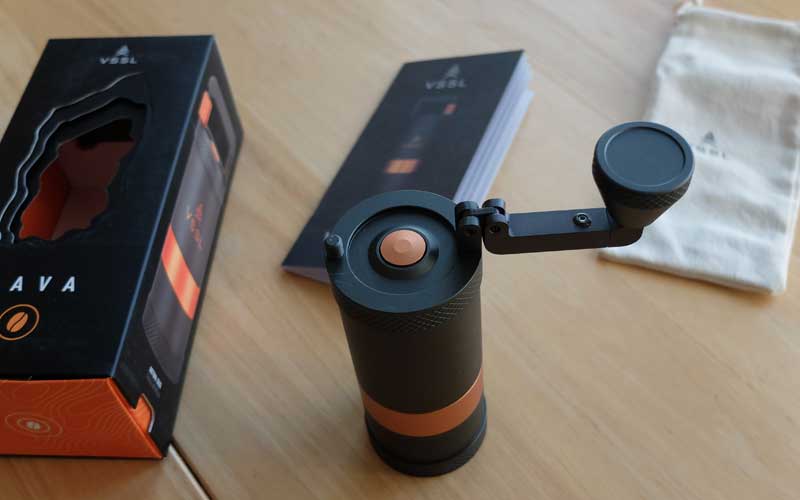 Everything about the VSSL Java coffee grinder speaks to quality. From the grinder itself, to the box it comes in, and canvas travel pouch included.
If the coffee you once loved is no longer hitting the spot, try one of our Coffee Detective gourmet coffees.
Yes, we have our own coffees!
Take your pick from a few of our favorites. They are roasted fresh when you order them, and delivered free anywhere within the continental USA.
You can find our complete collection of coffees at the Coffee Detective Gourmet Coffee Store.
But feel free to start here, with a choice from a few of our favorite coffees - whole bean or ground.
And before you go, subscribe to the Coffee Detective Newsletter...
Sign up for occasional newsletters about the best coffees and brewing equipment. Plus special updates from the Coffee Detective Coffee Store…