Our review of the Maestri House Detachable Milk Frother.
First off, many thanks to the folks at Maestri House for sending us their milk frother to review.
No, we're not being paid to do the review. We just like trying new coffee gear!
And while having a milk frother may not be essential to the making of gourmet coffee itself – in the same way a quality grinder and brewer are - it can certainly add to the coffee-drinking experience!
As you can see above, we've paired the Maestri House milk frother with our Nespresso machine.
The Nespresso is great for making a quick shot of espresso, but doesn't come with a frothing wand. And while a milk frother doesn't add water in the same way a steam wand does, it does give you some beautiful frothed milk to add to your espresso shot.
That's how we've been using the Maestri so far, and we're loving it. My daughter loves she can make a quick cappuccino at home, and my wife is lining up to use it to make frothy hot chocolate!

The features of the Maestri House Detachable Milk Frother.
What does "detachable" mean in this context? It means the stainless steel jug is separate from the rest of the machine. Once your milk has been frothed, you just lift the jug from the base and pour. Super-simple. The jug is dishwasher-safe too, which is great.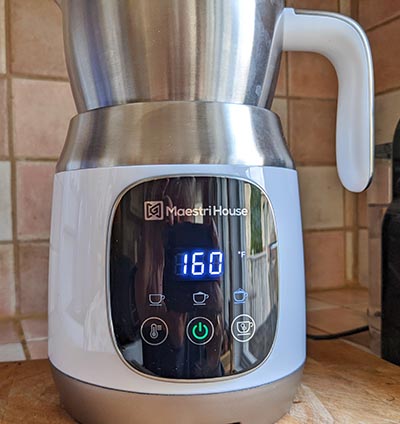 Simple temperature and froth level controls.
When it comes to frothing the milk, you have a few different settings.
You can choose the temperature you want, 120 degrees, 140 or 160. Up to you.
You can also select from three different levels of froth thickness – low, medium or high.
I like that the whisk assembly is held in place magnetically, so lifts free from the jug for cleaning. You can also add or removement elements of the whisk, depending on what you're frothing for.
The whisk is removable, with different elements for different types of froth.
One extra feature we really appreciate is that the frother stops automatically as soon as your milk is ready. And it alerts you with 5 short beeps. So you can carry on with other chores in the kitchen and know that you can't over or under-froth your milk in error. It just stops when it's done.
And for settings, that's about it. It's really easy to set up and get started. Nothing too fancy or complicated.
Our final thoughts…

We've tried other milk frothers in the past. They worked just fine.
But what we like about the Maestri is that it's super-simple. It's not too big or heavy, and it's very quiet when it's running.
And the price is right! Some of the other milk frothers we've tried were twice the price or more… and the quality of the frothed milk was just the same.
This is a keeper for us. Even if I didn't want to keep it in the kitchen for myself, my wife and daughter would overrule me!
You can order the Maestri House milk frother from their website.
And SAVE 10% when you use this coupon code at checkout: COFFEEDETECTIVE
Before you go, sign up to receive the Coffee Detective Newsletter...
Sign up for occasional newsletters about the best coffees and brewing equipment. Plus special updates from the Coffee Detective Coffee Store…