Which Keurig single cup brewer best suits your lifestyle and budget?
There are a number of Keurig single cup brewers to choose from. All of them use K-Cups, which you simply place in the machine before you start brewing.
Which of these Keurig brewers is right for you? It depends both on the features you want and the budget you have.
The good news is that four of the most popular Keurig models shown below use the exact same brewing system and unit. (The new Vue V700 uses a different kind of "K-Cup".)
So whichever brewer you buy, you get the same system, and pay more or less according to the extra features you want.
We have put together a list of features to give you the information you need to make the right choice.
How to make coffee with a Keurig B60 K-Cup coffee maker.
The Keurig process works the same across all of its models, so even though this video shows the Keurig B60 in action, the actually brewing head with the K-Cups is the same, whichever model you choose.
We own and thoroughly enjoy a Keurig B60. Learn more about the Keurig B60 Special Edition.
Choose from these Keurig single cup brewers...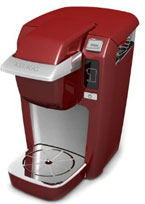 The Keurig Mini B-31
The Keurig Mini B31 is the smallest of all K-Cup coffee machines and ideal for anywhere with a small counter space. (Home, dorm room, RV etc.)
- One cup water reservoir for one cup at a time.
- 3 brew sizes.
- Auto-off after 90 seconds.
- Great for coffee, tea and hot chocolate.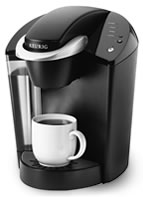 The Keurig Elite B-40

The Keurig B-40 is Keurig's entry level brewer, perfect for home, office or dorm room.

- Brews a 7.25-oz. cup.
- Removable 48-oz. water reservoir.
- Easy-clean plastic drip tray.
- Automatic shut-off option.
- Water level sensor.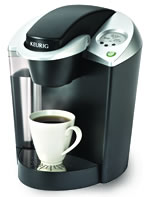 The Keurig Special Edition B-60
The Keurig B-60 is the most popular of the Keurig brewers, and offers a travel mug brew size option.

- Three brew-size options: 5.25, 7.25 and 9.25-oz. for travel tumblers.
- Adjustable brew temperature
- Blue backlit LCD display and reservoir.
- Chrome handle and faceplate.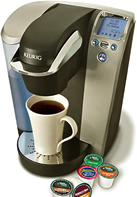 The Keurig Platinum B-70
The Keurig B-70 is at the top end of the regular Keurig single-serve brewers, with a larger water reservoir and more brew size options.
- New Styling fits in the same footprint
- Four brew-size options: 5.25, 7.25, 9.25 and 11.25-oz. for travel mugs
- Larger, 60-oz. removable water reservoir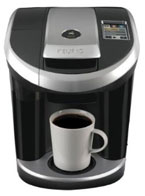 The Keurig Vue V700
The Keurig Vue V700 is one of a new generation of Keurig Brewers which make coffee and espresso-based drinks.
- Makes coffee, latte and cappuccino.
- 8 different brew sizes.
- Brews in under a minute.
- Uses Keurig Vue portion packs (NOT regular K-Cups).
Return to the single cup coffee brewers page...
---