Is it time to get yourself a K-Cup storage drawer?


If you have a Keurig brewer, you're already familiar with the problem of finding somewhere to store the boxes of K-Cups.
If everyone in your home likes the same coffee, you can probably get away with just placing the box next to the brewer, or finding a spot for it in in a cupboard close by.
But if you like to mix it up, and find yourself buying three or four different K-Cup coffees, and want them all close at hand, then you begin to have a problem.
This is a common challenge, because even if you are the only one using the Keurig brewer, maybe you like to use the machine to make a regular coffee, a flavored coffee and maybe tea as well.
Now you have a counter-top or cupboard overtaken with several not very attractive cardboard boxes filled with K-Cups.
Naturally, companies have stepped in to address this problem with a variety of different storage drawer designs.
This way, you can store all your different K-Cups close to your brewer, without making the kitchen cluttered or unattractive.
You keep the storage drawer filled with K-Cups and then restock from the original boxes when necessary. And you can keep the boxes elsewhere, without cluttering the area around the brewer.
You can get these K-Cup drawers in a variety of designs and colors.
The two main designs are horizontal and vertical. The horizontal drawers are placed under the brewer itself. The vertical dispensers or carousels are designed to be placed just next to the brewer.
I don't know the relative popularity of these two different types, but my guess is that the horizontal drawer, placed under the brewer, is probably the most popular.
Why? Because it makes the most of your counter space.
Interestingly - at least I think so - Keurig has been very slow to catch onto the storage and presentation issue. Other single serve companies, Nespresso in particular, were marketing storage solutions from the outset. 
They recognized the problem, and created attractive storage boxes and trays from the very beginning.
It seems Keurig is finally catching up.
I'm beginning to see these drawers appearing on the shelves of supermarkets and other stores.
But if you can't find one locally, you can check out the choices on Amazon.com.
And, of course, storage drawers are also available for other single-serve systems, like the Tassimo brewer pictured below.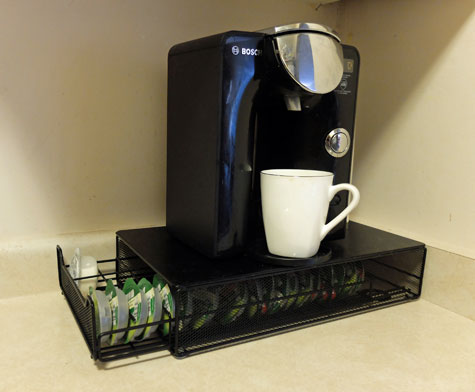 Further reading...
More about Keurig K-Cup brewers
About the author: Nick Usborne, aka Coffee Detective, is a writer and long-time coffee enthusiast. Read more…
Before you go, sign up to receive the Coffee Detective Newsletter...
Sign up for occasional newsletters about the best coffees and brewing equipment. Plus special updates from the Coffee Detective Coffee Store…