Can I recycle my Keurig K-Cups?
by Suzanne Dionne
(Woodbury, CT. USA)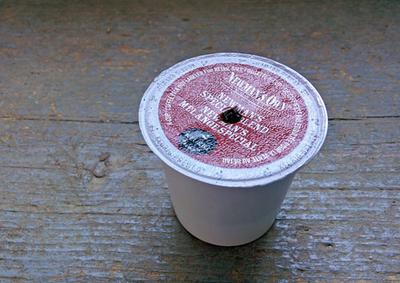 Recycling for Keurig K-Cups?

QUESTION:

What exactly is the K-cup made of? What grade plastic is it?

ANSWER:

Good question. I have a Keurig brewer myself and have opened up a K-Cup in the hope of being able to find some clue at to whether the plastic is recyclable. But I haven't found anything – not the recyclable logo, nor a number.

In addition, it's tough separating the plastic cup from the foil lid and the filter material that is attached inside.

I have pretty much given up on being able to recycle the used K-Cups. It's frustrating, particularly when you see quite a pile of them building up in the garbage.

More and more now I use a re-usable filter basket. After each use I simply pour out the used coffee grinds, (for my compost), wash the filter and use it again next time.

The filter I use is the Keurig My K-Cup Reusable Coffee Filter
.

An alternative that has come out recently is the Melitta JavaJig. (Click on the small photo above to see it in full size.) As you might expect from Melitta, it's a small plastic cup into which you place a very small filter paper. After each use you can simply toss the paper and wet coffee grinds into your compost bin.

You can get the Melitta Java Jig at Amazon.com
.