Coffee accessories add to your gourmet coffee experience in many ways.
Choosing the right coffee accessories adds a whole new layer to enjoying home-brewed gourmet coffee.
In other words, enjoying your coffee continues beyond the moment the carafe fills with a fresh brew.
On this page I'll be writing about various coffee accessories from travel mugs, to coffee scoops and beyond.
To get started, I'm first going to look at the value of owning a good travel mug or two.
In the weeks ahead I'll add more coffee accessory categories.
Coffee Travel Mugs
Having a travel mug or two is a great way to take your enjoyment of gourmet coffee out of the kitchen and into your car or office.
There are plenty of different travel mugs to choose from, including some that will plug into your car or even your computer with a USB connection.
Beyond their basic task of keeping your coffee hot, travel mugs also have a strong environmental benefit.
Instead of using a new paper or plastic cup every time you buy coffee at a coffee shop or gas station, take your travel mug with you.
Over the course of a year you'll keep a lot of disposable coffee cups out of the landfill.
Our favorite travel mug by far is the Contigo travel mug. You can read our review of the Contigo here.
Get yourself a good coffee scoop or a set of scales.
Using a coffee scoop is probably sufficient when using your drip brewer. But for pour-over or a French press, you'll want to use a set of scales.
A coffee scoop is probably the lowest-cost coffee accessory of all. But it can save some hassle and mistakes, especially first thing in the morning while you're making that first brew.
The correct measure for making coffee is two level tablespoons of ground coffee for every 6 ounces of water. If you try to use a real tablespoon, there is no guarantee that it will contain the same amount of coffee grinds as that one-tablespoon measure you use for your kitchen recipes.
Yes, you could use your regular kitchen measuring spoons. But it's still easier to have one 2x tablespoon coffee scoop in your coffee tin, and leave the measuring spoons in the kitchen drawer.
Just one scoop for each cup of coffee. Quick and easy.
A decent coffee scoop costs just a few bucks. A good investment.
Or, if you want to be even more precise, get yourself a digital coffee scale.
Watch this space...
As I mentioned, we'll be adding more coffee gear items to this page. Stay tuned!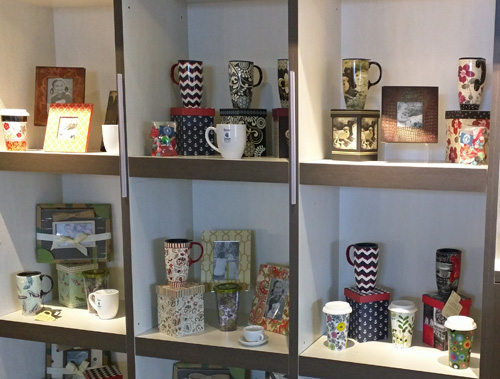 A display of some beautiful porcelain coffee mugs with lids. Half way between a regular mug and a travel mug.
Before you go, sign up to receive the Coffee Detective Newsletter...
Sign up for occasional newsletters about the best coffees and brewing equipment. Plus special updates from the Coffee Detective Coffee Store…