Coffee cocktails – a subtler kind of buzz for coffee lovers.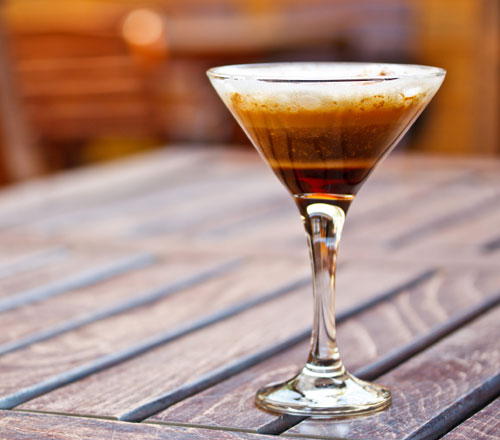 People have been mixing coffee and alcohol for a long time. In fact, one of the most popular pages on this site includes a compilation of alcoholic coffee drinks recipes.
You'll find old favorites there like Bailey's Irish Cream Coffee and Bavarian Coffee, which is made with schnapps and Kahlua.
But things are now changing, ratcheting up a notch in sophistication.

Where cocktails and coffee come together...
In LA's famous Hollywood Roosevelt Hotel, for example, the bartenders are half mixologist and half barista, coming up with all kinds of new concoctions made with liqueurs and coffee.

In some bars they'll brew and cool the coffee themselves. In others they use bottled cold coffees, like those supplied by third-wave coffee companies like Stumptown coffee.
While I'm not much of a cocktail guy myself, I do appreciate how people are taking more and more care to bring out the finer flavors of their coffee, whether taken as coffee alone, or mixed as part of a cocktail.
Third-wave coffee shops are now hand brewing each cup, and offering a wonderful array of single-origin coffee beans. Meanwhile, over in some bars, this strange mix of bartender and barista is also working hard to find liqueurs that work well with coffee.
In a way it makes perfect sense. A thoughtful coffee drinker will recognize the floral, fruity and citrus notes in a fine cup of coffee. This is what third wave coffee drinking is all about, recognizing and enjoying these subtle flavors.
Now talk to someone who mixes cocktails and ask her if there is anything she could do with a beverage with floral, fruity and citrus notes. The answer would almost certainly be yes.
Coffee and an alcohol make for an unlikely combination.
Coffee is most often associated with the first half of the day, and is imbibed to wake us up and keep us alert. While cocktails are served at the other end of the day, to help us wind down and relax.

Coffee winds us up, and evening drinks wind us down. It is interesting to see them being paired and fused in a whole new way.
So...if we have coffee in bars, how about having cocktails in coffee shops?
Yes, that's happening too. Hodges Bend in Tulsa offers coffee, wine and cocktails and is open from 7:00A to 1:00AM. You can grab your coffee there on the way to work and drop by for a coffee cocktail on the way home.
For another example, in Brisbane, Australia - read this article about Strauss FD.
I love to watch this evolution of coffee in our lives.
Yes, coffee is about caffeine, just as beer and wine are about alcohol.
But if you dig deeper, and care more, you'll find tastes and subtleties that allow you to enjoy both alcohol and caffeine in ways that extend way beyond the need for a quick fix.
You can get non-alcoholic coffee cocktails too...

The Espresso Fizz is all the rage in the world of coffee cocktails right now, and it contains no alcohol.
It made its first appearance at Maialino, a restaurant in Manhattan. Created by Ryan Clur, it's a shot of espresso floating on cold tonic water and then flavored with orange bitters and an orange twist.
I have never tried it, but apparently it's very good, with a bitter-sweet flavor that brings out the best in the espresso.
Coffee cocktails are by no means mainstream, yet. But maybe the day will come.

9 Amazing alcoholic coffee drinks.

Alcoholic coffee drinks recipes for after-dinner treats. If you have the liqueurs and the coffee, we have the recipes.


Hot winter coffee drinks.

Try some of these hot winter coffee drinks recipes for those long Fall and Winter days. Find them here...


Espresso based coffee drinks

How to make cappuccino, latte, caffe mocha and other espresso-based coffee drinks. Full instructions here...
Read more of my coffee opinion posts.

In these posts I share my thoughts and opinions on various aspects of gourmet coffee – sometimes thoughtful, and sometimes more lighthearted. Find my posts here...

About the author: Nick Usborne, aka Coffee Detective, is a writer and long-time coffee enthusiast. Read more…
Before you go, sign up to receive the Coffee Detective Newsletter...
Sign up for occasional newsletters about the best coffees and brewing equipment. Plus special updates from the Coffee Detective Coffee Store…