Electric Gooseneck Kettle
Our review of the Maestri House Electric Gooseneck Kettle.
First off, many thanks to the folks at Maestri House for sending us their electric gooseneck kettle to review.
Truth be told, I was slow to understand the value of a regular gooseneck kettle.
For many years I used a regular kettle when making pour over coffee. Honestly, I thought the gooseneck thing was mostly hype. I didn't get it at all.
Then… BAMM… the first time I ever used a gooseneck kettle I immediately understood how it gives you a whole lot more control over the pouring and timing when making coffee.
I went from being a sceptic to a fan in about 5 minutes flat!
I've been similarly slow to dive in and use an electric gooseneck kettle.
And that's a little weird, because I know how important it is to get the water temperature just right.
No… not boiling point.
When you're making coffee, you want your water to be a little less than boiling… within a range of 199-205°F (93-96°C).
Yes, you can do that with a regular kettle and a thermometer. But it's a pain. As a result, most of us boil the water to full boiling point, and then let it sit for a few minutes, hoping we guess right about when the temperate hits the optimal range.
This guesswork approach makes little sense if you really want to make great coffee.
In fact, failure to get the temperature of the water right is probably the number one reason why most coffee enthusiasts make less than perfect brews.

And that brings us to the Maestri House Electric Gooseneck Kettle.
First of all, this is a beautiful looking kettle. Classic gooseneck lines and style. A great addition to any kitchen counter.
Next, it gets the temperature right every time you brew. I use it when I'm making our over coffee, and also with my French Press.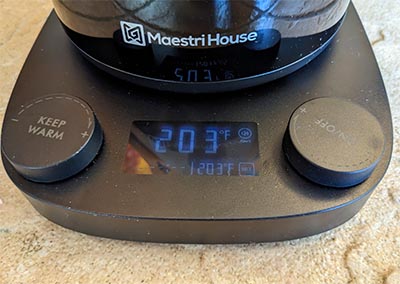 Controls and display for the Maestri House Electric Gooseneck Kettle
The kettle comes with a simple instruction manual. So I won't bore you with all the details.
Suffice it to say, the knob on the right is the one you turn to set the desired temperature, which shows on the central display. When you're ready to brew, add water to the kettle and then press the knob.
With the knob on the left you can keep the water hot, and at the desired temperature, for up to an hour. Again, twist it to set the temperature, and press it to activate.
There are other great features, but that's the heart of it.

Concluding thoughts.
It's almost impossible to do justice to quality coffee beans without getting the water temperature just right.
The Maestri House Electric Gooseneck Kettle solves that problem. Plus, it looks great.
This is a keeper for me, and I'd recommend it to anyone.
You can find out more and buy the kettle here…
And SAVE 10% when you use this coupon code at checkout: COFFEEDETECTIVE
Related Topics:
The Maestri House Detachable Milk Frother
The Maestri House Detachable Milk Frother is a great piece of coffee gear for making cappuccino or a latte at home. Good for hot chocolate too! Our review...
Before you go, sign up to receive the Coffee Detective Newsletter...
Sign up for occasional newsletters about the best coffees and brewing equipment. Plus special updates from the Coffee Detective Coffee Store…