Gourmet Coffee Gifts – Single cup coffee makers and more...
Note: As an Amazon Associate I earn from qualifying purchases.

UPDATE: I need to update this page. In  the meantime, for my holiday gift ideas for coffee lovers for 2015-2016, check out the Coffee Gear Gifts page. 
Maybe not every coffee lover is going to be waiting for a one cup coffee maker under the tree. There are other gourmet coffee gifts you can choose from.
But one cup coffee makers are certainly a strong favorite.
There are now a dozen or more different single serve coffee machines to choose from. Below you'll see the most popular and highly rated of these brewers.
We've also added some other items, for coffee lovers who have some other gifts ideas on their wish lists.
Gourmet Coffee Gift #1 - Starbucks Verismo coffee brewer
The Verismo is the latest and "hottest" brewer in the single-serve market. It not only brews regular coffee, but also makes espresso, latte and cappuccino.
The idea, according to Starbucks, is that the Verismo allows you to make all your favorite Starbucks coffee drinks at home, without having to drive over to your nearest Starbucks location.
If you have friends who love Starbucks coffee, this will make for the perfect holiday gift.
The Verismo is available at Amazon.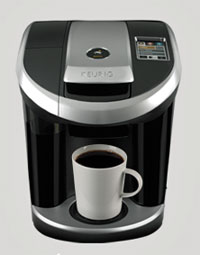 Gourmet Coffee Gift #2 - The Keurig Vue V700 Single-Cup Brewer
The Vue system is Keurig's new entry into the single-serve brewing market. It not only makes coffee one cup at a time, but also makes your favorite coffee beverages, like latte and cappuccino.
Other enhancements include a new kind of K-Cup which can be taken apart after use and recycled.
The Vue V700 is not an inexpensive brewer, but will hit the spot for Keurig fans who want a brewer that makes more than just coffee.
You can buy the Keurig Vue V700 here...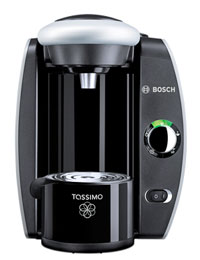 Gourmet Coffee Gift #3 - The Tassimo T45 Single Serve Coffee Maker
The Tassimo brewing system came out several years ahead of both Starbucks and Keurig in offering a single-serve brewer that makes not only coffee, but also other beverages like latte, cappuccino and hot chocolate.
One advantage of chooing a Tassimo brewer is that, because they have been around for longer, you are moe likely to find their packs of T-Discs in your local supermarket.
You can buy the Tassimo T45 Single Serve Coffeemaker at Amazon.com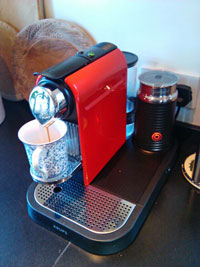 Gourmet Coffee Gift #4 - Nespresso automatic espresso machines
Nespresso brings the single-serve concept to espresso machines. Using small capsules, you simply insert the capsule and press the brew button.
Some models include a milk-frother so you can easily make your own latte or cappuccino.
Perhaps the most striking aspect of these machines is their high-end design. They look great.
Nespresso machines at Amazon.com.
Gourmet Coffee Gift #5 - Capresso Infinity Burr Grinder
To make great coffee, first you need great beans, and next you need a quality coffee grinder.
The Capresso Infinity Burr Grinder is not a blade grinder, it's a conical burr grinder, giving you a variety of coffee grind settings, from coarse to very fine. You can set the burrs to grind coarse coffee for your French Press, and fine coffee for your espresso machine - and everywhere in between.
It also has a slow grind speed, so you don't lose flavour through the heat of friction between the plates.
You can buy the Capresso Infinity Burr Grinder here...
Gourmet Coffee Gift #6 - Breville BKE820XL Variable-Temperature 1.8-Liter Kettle
If you make coffee with a French press or filter cone, it's often tricky to get the water temperature just right.
But not any more!
This Breville kettle has a number of setting, both for coffee and for various types of tea.
This is a great idea for any gourmet coffee lover who likes to get the very best flavors from his or her coffees, and teas.
Buy the Breville BKE820XL Variable-Temperature 1.8-Liter Kettle from Amazon.com…
Any one of these would make a great gift...
Whatever the occasion or reason, any coffee lover would be delighted to receive any one of the gift ideas above.
Another gift idea...gourmet coffee gift baskets...