King's Row Coffee Coastal Blend – a medium roast coffee with a hint of citrus.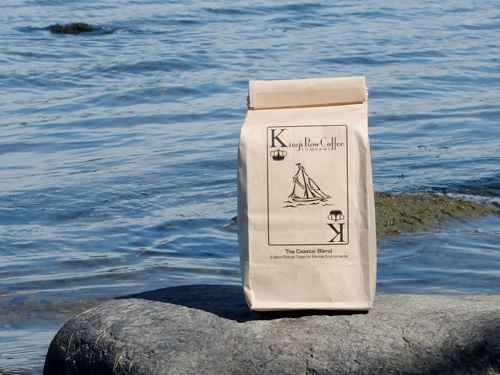 This is our third review of a King's Row Coffee blend.
The first was their Shelton Signature Blend and the second was their Bonbon Blend.
As you may recall, King's Row does things a little differently. They create coffee blends that are suited to particular taste environments, under the watchful eye of founder Craig Shelton, a renowned and award-winning chef.
That might mean creating a blend that is perfect with dessert after dinner, a blend that holds its flavor at higher altitudes, or a blend that compensates for the brine in the air when you're on the beach.
This latter challenge is the focus of today's review of the Coastal Blend.
The Coastal Blend has been created to alleviate the way in which brine in the air numbs the palate slightly and introduces an often unwelcome touch of salt. A little saltiness in the air may work fine if you're eating fish on a beachfront patio, but not so well with your morning coffee. 
Unfortunately the Coffee Detective reviews budget doesn't run to flying to the coast and tasting this coffee with our toes in the sand. Pity!
So for the purposes of this review we'll give it an inland review and judge it on its merits as a high-end coffee.
As always, we ground the beans just before brewing, and brewed the coffee in our trusty Bonavita drip brewer. We always use the same brewer for our reviews for a couple of reasons. First, we trust the Bonavita to make a great cup of coffee. Two, we're being fair to every coffee we try because the brew is consistent every time.
OK, now for the tasting.
First off, there is definitely something unusual going on here with this Coastal Blend. No two sips were quite the same. One time the first feel was citrus, and then with the next sip the citrus came out as an aftertaste. Most unusual.
Anyway, whatever the sequence, this is a medium-bold coffee. Not too light and not too dark. Yes, you get that citrus feel. But the dominant taste comes over with a little of the acidity you look for in a coffee, balanced by bittersweet chocolate and a touch of caramel.
Overall, we liked it and would like to try it on the beach one day. That said, out of the three coffees we have tried from this roaster, our top vote would go to the Shelton Signature Blend.
You can find out more about King's Row Coffee here...
Special Offer for Coffee Detective Readers
Save 20% on your purchase from King's Row Coffee. 
Use Coupon Code coffeedetective20 at checkout. You can even use the code on two occasions! At King's Row Coffee...
NOTE: This product was sent to us free in return for a review. (That said, we always reserve the right NOT to review a free product if we don't like it, or feel you wouldn't like it.)

Read our no-nonsense coffee reviews...

All our coffee reviews are written in plain English, and are not paid for. We just call it as we taste it. See all our coffee reviews here...

About the author: Nick Usborne, aka Coffee Detective, is a writer and long-time coffee enthusiast. Read more…
Before you go, sign up to receive the Coffee Detective Newsletter...
Sign up for occasional newsletters about the best coffees and brewing equipment. Plus special updates from the Coffee Detective Coffee Store…