Trying out Melitta's Single Serve Coffee Cups in our Keurig brewer.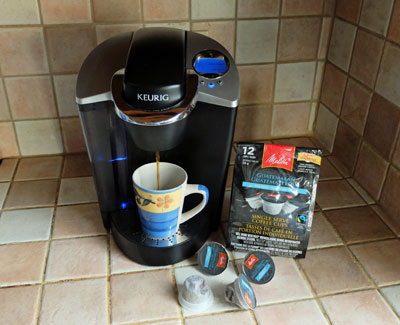 I don't buy K-Cups as a rule. But I thought I'd try these single serve cups from Melitta, simply because they appear to use a lot less plastic than regular K-Cups.
Along with a lot of other people, I'm not a big fan of the wasteful, one-time-use of plastics. There are billions of empty K-Cups in landfills now, all over the world.
Also, I hear from a lot of coffee drinkers who are concerned about chemicals leaching out when hot water comes into contact with all the plastic components found in coffee makers. 
These cups don't make any difference to the plastic in your brewer, but they do cut back on the exposure to plastic within the cup itself.
According to the Melitta website, these cups use 40% less plastic than regular K-Cups. As you can see, these cups are different in that they have a plastic collar around the top, but beneath that the coffee is contained in a paper filter material.
Traditional K-Cups have thinner filter material, and depend on the outer plastic shell to handle the pressure of the brewing process. The design of these cups does away with a lot of the plastic and depends on a thicker paper filter to handle the pressure.
And it seems to work just fine. I have brewed three cups so far, and it all worked perfectly in my 4-year old Keurig brewer.
BTW - these Melitta cups are designed for use in the original K-Cup brewers, like my one, and with any other brewer that uses the same style of brew head. But they don't work with the new Keurig VUE system.
As for the coffee…a Guatemalan dark roast…it was pretty good.
Generally I prefer to use a hands-on brewing system, like a French press or the Chemex brewer, if I really want to get the very best from a coffee. But for a cup of Joe in the morning, our Keurig does just fine. And this Guatemalan coffee certainly passes muster as a decent cup of coffee.
If you like the convenience of a single-serve brewer, but want to cut back on the plastic waste, you can probably find these Melitta cups in your local supermarket. If not, they are available on Amazon.ca.
(These seem to be widely available in Canada, but not so much in the US.)
About the author: Nick Usborne, aka Coffee Detective, is a writer and long-time coffee enthusiast. Read more…
Before you go, sign up to receive the Coffee Detective Newsletter...
Sign up for occasional newsletters about the best coffees and brewing equipment. Plus special updates from the Coffee Detective Coffee Store…