Sunbeam AP-20 automatic 10-cup percolator.
by James Jollimore
(New Windsor,N.Y.)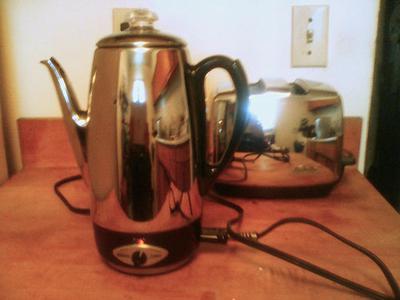 Sunbeam AP-20 Automatic Coffee Percolator.
My percolator is 50yrs old and makes excellent coffee. I like that it has a dial that allows me to control the strength of the coffee so I get a perfect cup of coffee just the way I like it every time.

Back when this percolator was made things were built to last and will most likely outlast me.

Above is the photo of my percolator, plus I found an ad from life magazine April 1962. The sunbeam toaster in the picture my parents received as a wedding gift in 1960 it also works as good as when it was new.

I forgot to mention another reason that I like my percolator is that it is 1000w and it makes coffee super fast.

More on coffee percolators:

Drip or Percolated coffee...which is best?

Stove top coffee percolator.

Percolators are the best!

New seal for the Sunbeam C-30A vacuum coffee maker?

West Bend 5-9 cup Percolator.

Percolators get a bad rap.