Sunbeam AP-20 automatic 10-cup percolator.
Sunbeam AP-20 automatic 10-cup percolator.
by James Jollimore
(New Windsor,N.Y.)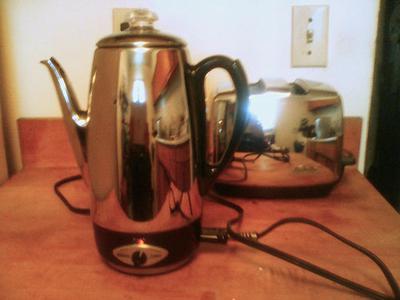 Sunbeam AP-20 Automatic Coffee Percolator.
My percolator is 50yrs old and makes excellent coffee. I like that it has a dial that allows me to control the strength of the coffee so I get a perfect cup of coffee just the way I like it every time.

Back when this percolator was made things were built to last and will most likely outlast me.

Above is the photo of my percolator, plus I found an ad from life magazine April 1962. The sunbeam toaster in the picture my parents received as a wedding gift in 1960 it also works as good as when it was new.

I forgot to mention another reason that I like my percolator is that it is 1000w and it makes coffee super fast.

More on coffee percolators:

Drip or Percolated coffee...which is best?

Stove top coffee percolator.

Percolators are the best!

New seal for the Sunbeam C-30A vacuum coffee maker?

West Bend 5-9 cup Percolator.

Percolators get a bad rap.
If the coffee you once loved is no longer hitting the spot, try one of our Coffee Detective gourmet coffees.
Yes, we have our own coffees!
Take your pick from a few of our favorites. They are roasted fresh when you order them, and delivered free anywhere within the continental USA.
You can find our complete collection of coffees at the Coffee Detective Gourmet Coffee Store.
But feel free to start here, with a choice from a few of our favorite coffees - whole bean or ground.
And before you go, subscribe to the Coffee Detective Newsletter...
Sign up for occasional newsletters about the best coffees and brewing equipment. Plus special updates from the Coffee Detective Coffee Store…