After dinner coffee – turn it into the high point of your evening.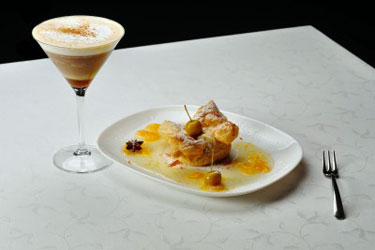 There was a time when after dinner coffee was just poured from a carafe back in the kitchen, and then brought to the table.
That's fine in so far as it goes. But of you like gourmet coffee, and like to entertain, there is a lot more you can do.

Bring your coffee maker to the table...

No, we're not talking about lugging your drip brewer or a single serve coffee maker to your dining room table.

But what about a French press?
A French press is a great way to brew coffee, and by bringing it to the table you are adding a great new experience to your meal.
You can do the same with a vacuum coffee maker or a Chemex brewer.
And when it comes to a vacuum brewer, you can't do better than the Cona coffee maker.
Instead of hiding the brewing process back in the kitchen, you can make it a point of focus and conversation.
After all, if you are a true coffee lover, why hide the process and magic of carefully brewing a fine gourmet coffee for your friends?
On the subject of conversations...what IS that coffee I see brewing?

This can be the best part of serving after dinner coffee.

If you bring the coffee maker to the table, so people can actually see the coffee brewing, someone is going to ask, "So, what's the coffee? Where does it come from?"
And this is where you can have as much fun as choosing a good wine.
Which coffee should you serve at dinner? There are plenty of after dinner coffee blends available. Or you can choose your own favorite beans.
There is no firm tradition when it comes to whether the coffee should be mild or with a stronger taste.
So just serve what you really enjoy.
If you happen to buy organic or fair trade coffee, that's a whole new area of conversation waiting to happen. 
And, of course, you don't have to confine the after-dinner coffee experience to straight coffee. You can also serve espresso, or espresso-based drinks like a Latte or Cappuccino.
While you may not want to lug your espresso machine into the dining room, making these drinks at home is still a great conversation starter.
Further reading:
Learn more about gourmet specialty coffee.
More about the gourmet coffee lifestyle.
Before you go, sign up to receive the Coffee Detective Newsletter...
Sign up for occasional newsletters about the best coffees and brewing equipment. Plus special updates from the Coffee Detective Coffee Store…