The Gourmet Coffee Lifestyle – how coffee has come to change our lives.
Not so long ago, viewing gourmet coffee as part of your lifestyle would have been unimaginable.
Most coffee was purchased in cans from supermarkets, and the quality was uniformly poor.
One would grab a coffee before work and take coffee breaks during the day. But coffee was chosen for its kick more than for the quality of its taste.
Today, with the growth of specialty gourmet coffees, coffee has come to touch our lives in a lot of new and different ways.
Now we can choose gourmet coffee over  a diner's cup of Joe...
You can still go to a diner and get an anonymous coffee served with your meal. But the experience is utterly different from that of going to Starbucks or some other gourmet coffee shop.
In a coffee shop you have a range of different coffees to choose from -- from Central or South America, East Africa, the Far East and even Hawaii.
You can have a straight coffee, or order an espresso, cappuccino, latté or any one of a host of other concoctions.
For many, going to a coffee shop has become part of their daily routine, part of their life. It has become desirable to hang out in a coffee shop. It is a place to meet with friends, hold business meetings or spend time on your own and read, or just sit and enjoy the ambience.
This may sound obvious and ordinary to us today. But just a few decades ago there were no coffee shops of the kind we have now. No place where you would be surrounded by the sounds and smells of coffee beans being ground and brewed.
Gourmet coffee and coffee shops have changed the landscape of many neighborhoods, and changed the daily routines of many people who live and work in the area.
You can now make gourmet coffee at home and enjoy a quality equal to what you'll find in a coffee shop...
The availability of whole coffee beans in stores and online has brought the gourmet coffee experience into our homes.
Now we can grind our own beans, try coffees from different countries and regions and make a cup of coffee that tastes just as good as what we buy in a coffee shop or restaurant.
You have an amazing choice of coffee makers...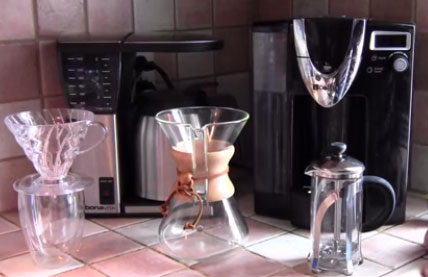 Take your pick from a range of home coffee makers, any of which can make a great cup of gourmet coffee.
It used to be that everyone used a percolator or standard drip brewer.

Now you can choose from a much broader selection of coffee makers, to suit your own lifestyle and your level of interest in coffee making.
One cup coffee brewers serve the needs of those who want to brew-and-run. While French presses and vacuum brewers delight those who want to take a little time and enjoy the visual and tactile experience of making fine coffee.
You can make the act of buying whole coffee beans part of your social conscience...
You can buy organic coffee beans or fair trade coffee beans. Either way, you are making an impact on the lives of coffee growers.
In the case of fair trade coffee in particular, every cup of coffee you drink helps pull small coffee farmers out of a cycle of poverty and helps their communities.
Coffee, conversation and music.

If you go back a few centuries to the coffee houses of the Middle East and Europe, you'll see there is nothing new about people gathering together and talking over coffee.
The coffee houses and people's interest in coffee may have disappeared for a while, but the desire to enjoy fine coffees in the company of others is now back.
Throw some music into the mix and you can see how the coffee lifestyle has changed since the days of the diners.
For most of us coffee has quite literally become part of our daily lives.
About the author: Nick Usborne, aka Coffee Detective, is a writer and long-time coffee enthusiast. Read more…
Further reading...
How to enjoy gourmet coffee on the go.

Make hand crafted coffee part of your lifestyle.
Coffee and music go together. Don't they?

Buzz about coffee on social media
Before you go, sign up to receive the Coffee Detective Newsletter...
Sign up for occasional newsletters about the best coffees and brewing equipment. Plus special updates from the Coffee Detective Coffee Store…