Top 2 single serve coffee makers – based on format, coffee selection and price.
Here's how we chose our Top 2 single serve coffee makers.
First, we took a look at what some of the industry's top coffee tasters have to say on the subject. In other words, we found out which of these brewers make the best tasting coffee.
Then we collected and compared buyer reviews from various online shopping comparison sites, to get a picture of which are the most popular single serve coffee makers among regular coffee drinkers.
We compared both lists, did a little extra research and came up with a list that gives you a choice on brand, single serve format and price.
The Top 2 single serve coffee makers...
Keurig B60 Special Edition
Keurig offers one of the most popular range of single-serve brewers. You just fill the water reservoir, pop in the K-Cup, and press one button.
There are a variety of different models to choose from, with different features and price points. The most popular is the Keurig B60.
Downside: Keurig brewers are a little pricey when compared to regular drip brewers.
Upside: Keurig offers a good variety of coffees in the K-Cup coffee format...over 30 at the time of writing. There are also some teas available in K-Cups.
(Confession time: We have a Keurig B60 in our office now and, in spite of our misgivings over price and selection, we love it. The only problem we have now is that it's too easy to make a good cup of coffee, and we are drinking way too much.)
Find out more, and buy the
Keurig B60 Special Edition here
.
Senseo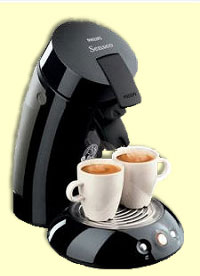 The Senseo single cup brewers use coffee pods. As with Keurig, there are a few models to choose from, but they are all very similar.
And once again, you just fill the water reservoir, place a pod in the coffee pod holder, and press one button.
Downside: Still more expensive than a regular drip brewer, but less expensive than the Keurig brewers.
Upside: You'll have more coffees to choose from, and some hot chocolate pods too.
Learn more and buy the Senseo SL7810/65 here...
If you want to dig a little deeper, there are three main types of single cup coffee brewer you can look into.
K-Cup Brewers - which take K-Cups. There are five different K-Cup brewers you can choose from, all available through Green Mountain Coffee.
Coffee Pod Brewers - which take coffee pods. There are many different coffee pod brewers, made by a variety of manufacturers. Most are available through Amazon.com.
Tassimo Brewers - which takes T-Discs. There are two T-Disc brewers, the Braun Tassimo and the Bosch Tassimo. Both are available through Amazon.com.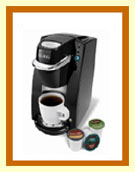 The Keurig B30 - a great Holiday Gift Idea for Coffee Lovers.
This is the latest and the smallest of the Keurig K-Cup brewers. It's the ultimate in no mess, no fuss single serve gourmet coffee makers. It's also the least expensive K-Cup brewer, and small enough for your home office, RV, boat, vacation home, dorm room or anywhere else where "small" is better.
Learn more about the Keurig B30...
Learn more about making great coffee...
Back to single cup coffee brewers page...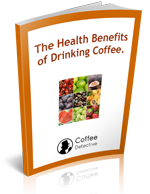 This 9-page report tells you about some of the surprising, and important health benefits of drinking coffee.
This report is yours FREE when you sign up for the Coffee Detective Newsletter
"The Health Benefits of
Drinking Coffee"
Sign up below and we'll provide a link where you can download your report immediately.
---