A video demonstration of the SunCafe Coffee Pod Brewer.
The SunCafe is a coffee pod brewer, using 61mm coffee pods.
It is a solid unit, with a powerful pump and makes a great cup of coffee, with a light froth on the top.

As I outline in the video, I like this brewer for a number of reasons, not least because it is solid, well-made and has the look and feel of an appliance that will last a long time.

It's a welcome new choice in a single-serve market dominated by the Keurig K-Cup brewers.
It offers two advantages over the K-Cup machines.
First, each cup of coffee you make will cost about half, without any loss in convenience. It's just as easy to make a single serving with coffee pods.
Second, there is no waste. Unlike K-Cups, which end up in landfills, used coffee pods can be composted.
All in all, a great new brewer.
And I'm not alone in liking it. Another owner left the following comment in one of the comment streams on this site.
"Nothing could have taken me away from my Tassimo... until Kienna coffee came along with their free SunCafe coffee maker offer. With the purchase of six boxes of delicious coffee, Canadian-made, Kienna included the SunCafe. At $8/box of 18 pods, $42 brought home the machine too. AND the coffee is amazing. I am especially impressed with the amount of crema that's created by the SunCafe's brewing process, and the quality of the coffee itself is hard to beat. Kienna pods come in a variety of flavors and are widely available. Needless to say, my Tassimo collects a lot of dust these days since the SunCafe and Kienna came into my life."
The Suncafe brewer is available in four different colors and can be purchased at Amazon.com.
NOTE: This product was sent to us free in return for a review. (That said, we always reserve the right NOT to review a free product if we don't like it, or feel you wouldn't like it.)
About the author: Nick Usborne, aka Coffee Detective, is a writer and long-time coffee enthusiast. Read more…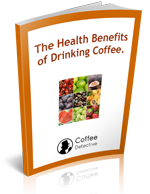 This 9-page report tells you about some of the surprising, and important health benefits of drinking coffee.
This report is yours FREE when you sign up for the Coffee Detective Newsletter
"The Health Benefits of
Drinking Coffee"
Sign up below and we'll provide a link where you can download your report immediately.
---